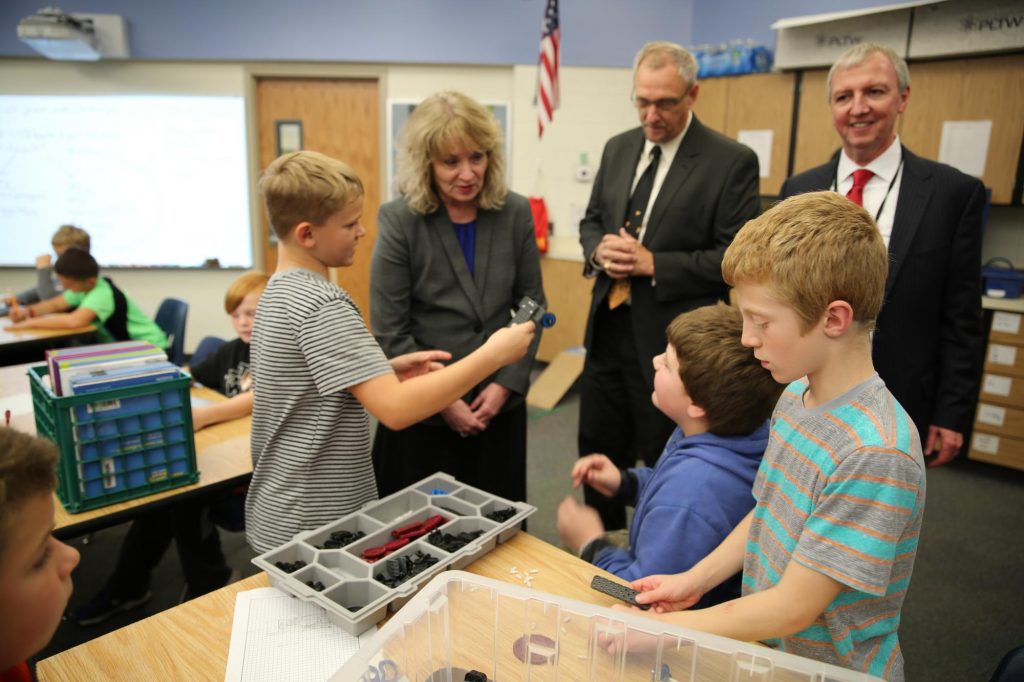 Indiana Superintendent visits PHM schools
Posted on October 27, 2016



Indiana Department of Education Superintendent Glenda Ritz dropped in for a visit of P-H-M schools this week (Wednesday, October 26). Superintendent Ritz got a whirlwind tour of Bittersweet, Penn and Schmucker seeing everything from the DVT to a robotics class. P-H-M's own Superintendent Dr. Jerry Thacker shined the spotlight on our STEM programs and safety initiatives at all three schools with the help of principals, teachers and students.
The P-H-M visit started at Bittersweet with a short demonstration of the DVT by Director Mindy O'Malley. Then Principal Bob Thompson took Supt. Ritz into Matt Bodnar's fourth grade Project Lead the Way class where students were working on car models.
At Penn, Early Learning and STEM Academy students served as tour guides. Supt. Ritz was able to observe Early College Academy Spanish and English classes. In the STEM Academy, she learned about students CSI work repairing Chromebooks as part of the Chromebook Support Internship and observe the hands-on projects taking place in the Principals of Engineering and Robotics classes. She even donned safety glasses to see what students were constructing in Buildings Trades shop class. At each stop, Supt. Ritz was able to interact with the students and see things up close and personal. The tour was more than just a learning experience for Supt. Ritz; for PNN students, the visit was turned into an opportunity to cover the event and interview Ritz for real world journalism experience.
At Schmucker, Supt. Ritz observed Matt Reinga's Project Lead the Way sixth grade class for more demonstrations of STEM in action. Before departing P-H-M, Assistant Superintendent of Instruction Dr. Kay Antonelli presented Supt. Ritz with one of the art pieces made as a part of this past summer's Visual Arts Academy. The artwork titled "Together We Can" was a gift thanking Supt. Ritz for the IDOE's recognition of the VAA as a 2016 Promising Practice.
Last Modified January 21, 2020