PHM Schools Polling Locations on Nov. 8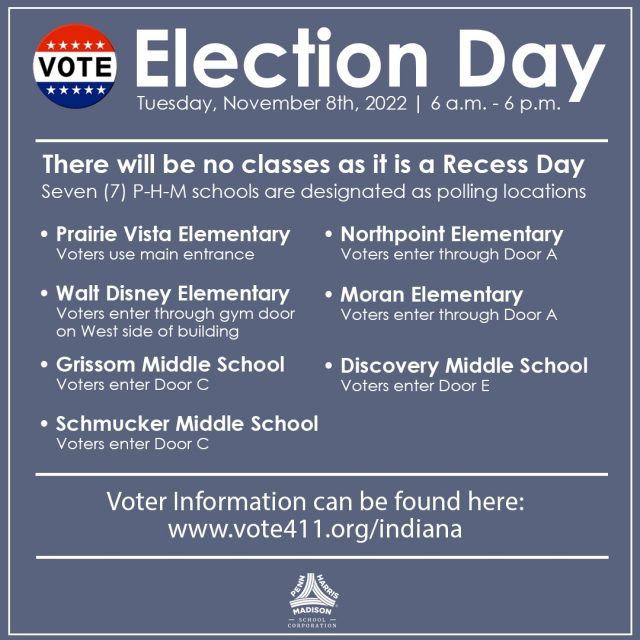 2nd Grade Classes Release Final Butterfly
Science quite literally "came to life" this Fall and our second grade students were able to see it with their own eyes!
Each second grade class had several "Butterfly Gardens", contained habitats with live caterpillars in their rooms. As the students learned about the life cycle of butterflies they could observe the caterpillars as they fed, formed their chrysalis, then emerged as a beautiful butterfly.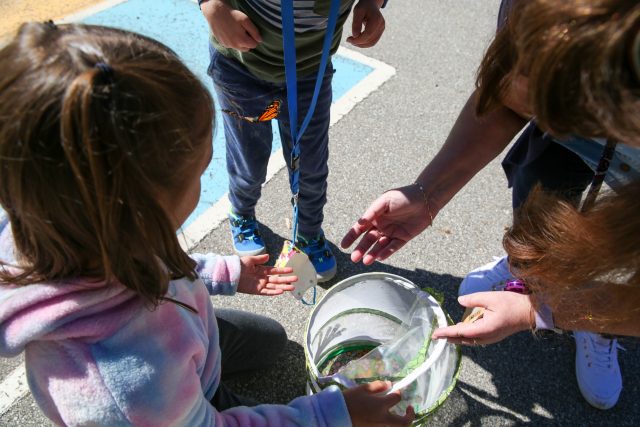 Each time a butterfly was ready to be released, all of the second grade classes would gather to watch it fly away.
Today's release was the last one and it couldn't have been a better day for it. See some photos below!
Pen Pal Meet Up Day!
Bittersweet and Moran first grade students have been writing letters back and forth through a brand new pen pals program! (Not to be confused with Penn PALS, the P-H-M preschool program)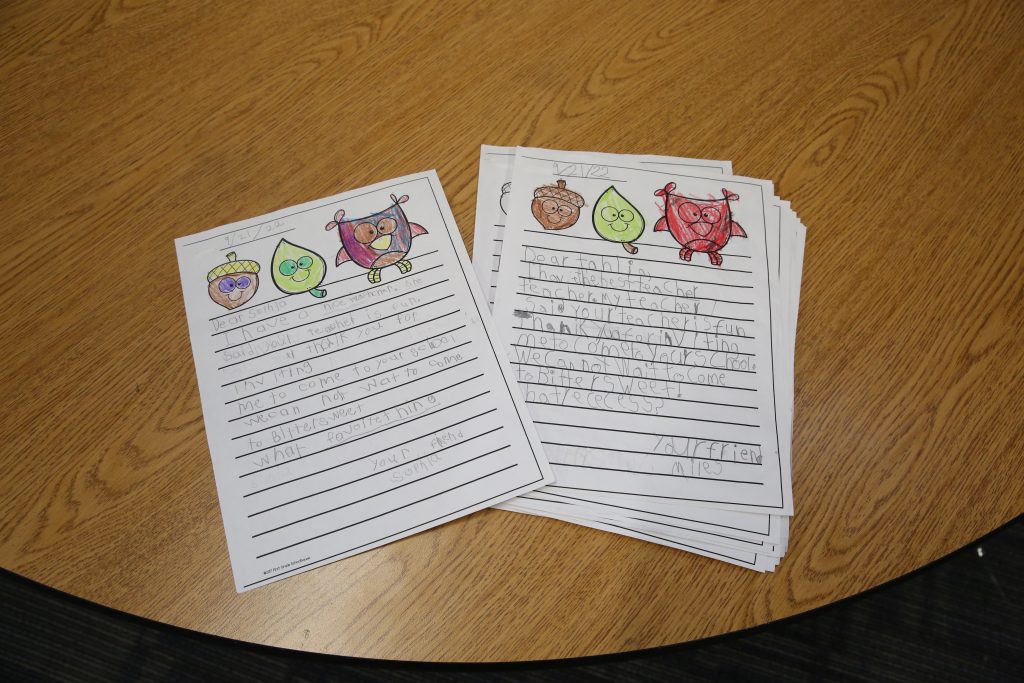 Each student has been writing to a "buddy" at the other school. The latest letter that the Bittersweet students wrote was an invitation to the Moran students to visit Bittersweet.
Today that visit happened. Not only did the "buddies" meet each other, but they also spent time with and got to know each other over the course of several hours.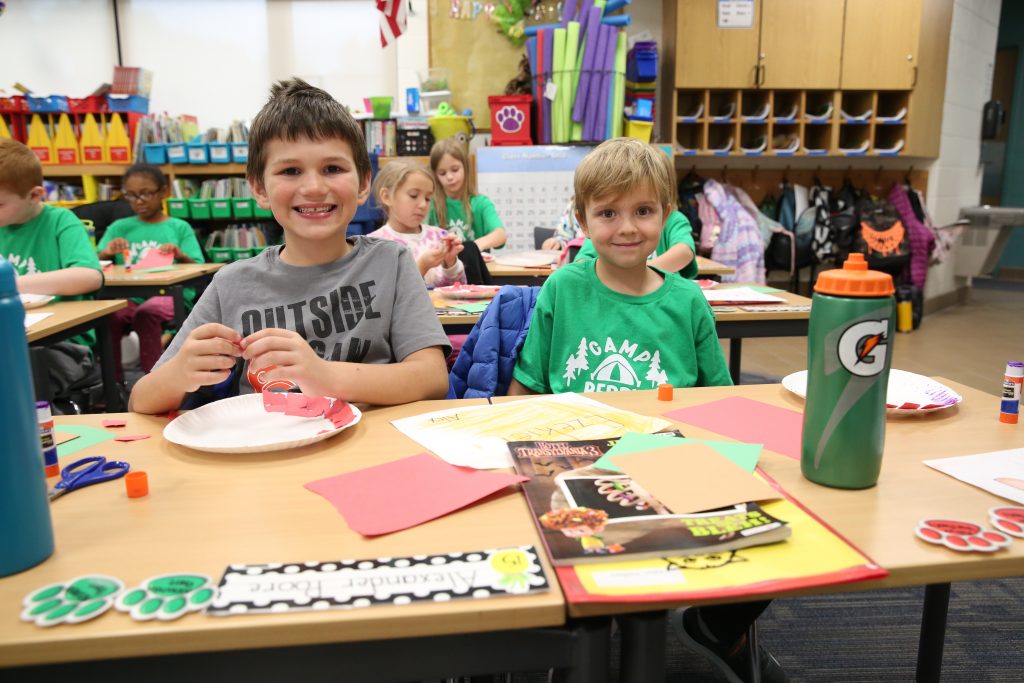 The buddies sat together through drawing and arts and crafts lessons before heading down to the Digital Video Theater & Planetarium.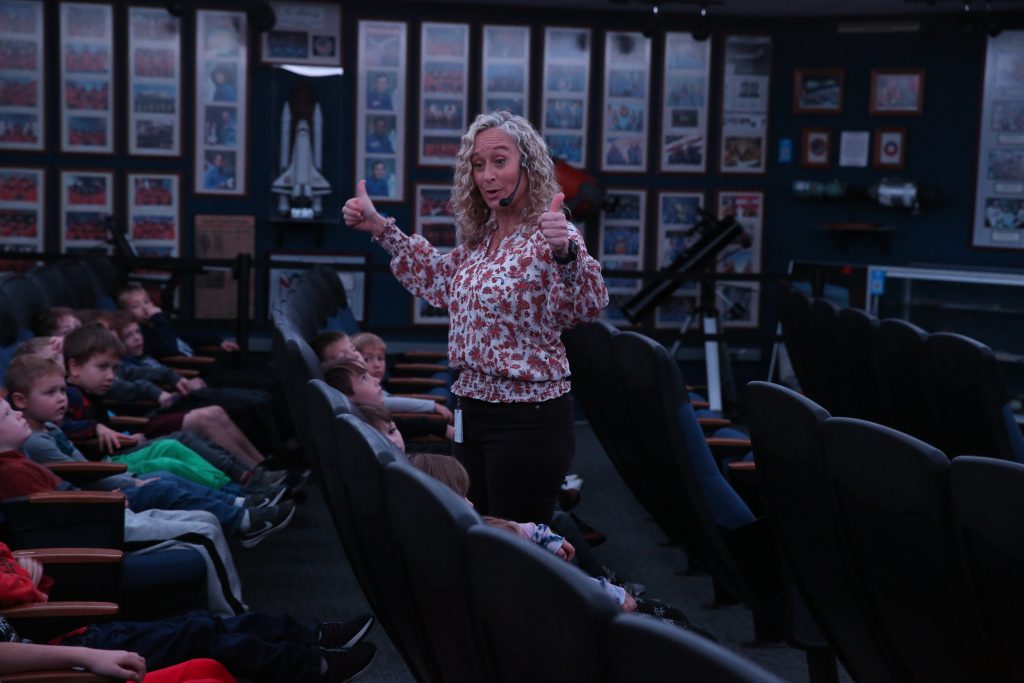 The pen pal program is expected to run through the duration of the school year. The Moran students plan to reciprocate the Bittersweet hospitality by inviting Bittersweet students to visit Moran some time around Thanksgiving. Stay tuned!
Gaga Ball Fun for Everyone!
There has been a major renovation to the Gaga Ball pit on our playground this week that makes it accessible to all of our friends.
"Gaga is a fast paced, high energy sport played in an octagonal pit. The more players the better! Dubbed a kinder gentler version of dodge ball, the game is played with a soft foam ball, and combines the skills of dodging, striking, running, and jumping, while trying to hit opponents with a ball below the knees. Players need to keep moving to avoid getting hit by the ball. Fun and easy, everyone gets a serious workout." – Description courtesy of the Gaga Center
In early September, a fourth grade student named Jordy, who has some mobility challenges asked his teacher, Nikki Kornrumph, if she could lift him up and put him in the Gaga Ball pit.
For safety reasons that could not be done, but that conversation sparked an idea: what if there was a gate that would allow everyone to access the Gaga Ball pit?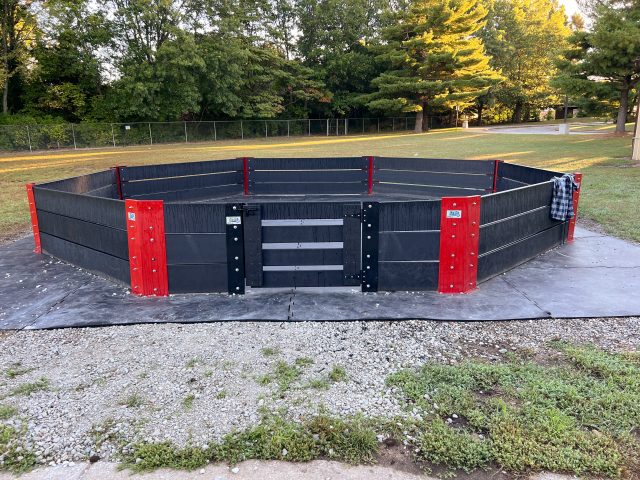 Fourth grade teacher Mrs. Kornrumph made it her mission to research and find out how we would be able to install a door on the Gaga Ball pit in order for all students to be able to play.
Mrs. Kornrumph found a gate that could be installed and contacted the Bittersweet PTO to see if they would be willing to help with funding and they were happy to do so!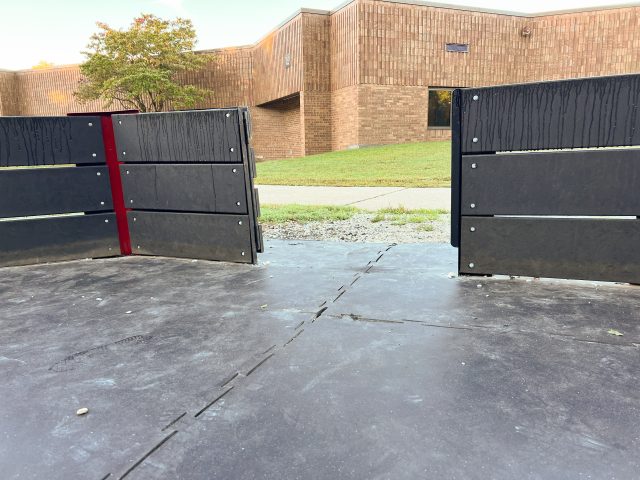 Not only did the PTO pay for the gate to be installed but they also oversaw the installation process. Mr. Nate worked closely with the P-H-M maintenance staff to cut a hole in the existing Gaga Ball Pit and to securely install the gate.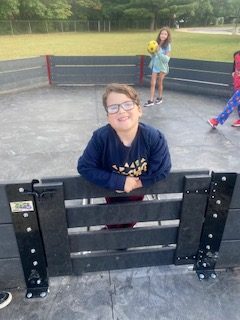 Jordy had been waiting so patiently, asking everyday if it was installed yet. Thursday, September 22, 2022 was the day! When he went out for recess, they were just finishing the installation of the door.
Our Office Aid Cortenay Rowe was on hand when Jordy was FINALLY able to play with his friends. Take a look at the video, he was over the moon!
Bobcats Around the World a Huge Success!
On Thursday, April 14th, 2022, we held our inaugural Bobcats Around the World Spring Fest!
In the weeks leading up to the event, our students were busy creating art that represented cultures from around the world.
The art was on full display as families toured our hallways during the festival.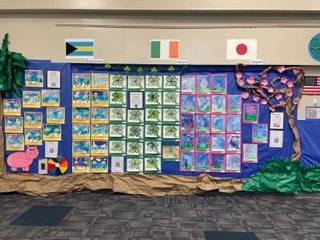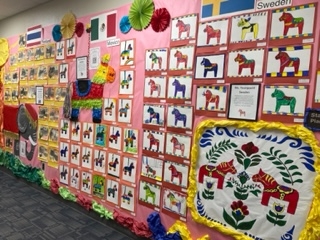 Not only did the students create the art, but they also learned a lesson about the place they were painting / drawing so it was educational too.
In addition to the international art gallery, we had games, face painting, a raffle, bounce houses and more located throughout the school.
To make it a one-stop shop for entertainment, we also had wonderful food trucks offering a variety of options for supper.
We'd like to think our WONDERFUL hardworking and creative PTO as well as the community sponsors that made this possible. We couldn't have done it without you!!!
Take a look at the pictures below!
2022 Middle School Instrument Selection Night
Discovery
Tuesday, Feb. 22 and Wednesday, Feb. 23
4:30 – 7:30 p.m.
Schmucker
Monday, Feb. 28 and Tuesday, March 1
4:30 – 7:30 p.m.
Grissom
Monday, March 14 and Tuesday, March 15
4:30 – 7:30 p.m.
Penn-Harris-Madison School Corporation is nationally recognized as one of the "Best Communities for Music Education" offering choir, band and orchestra at Schmucker, Discovery and Grissom Middle Schools.
Every P-H-M 5th grader who will be attending a P-H-M middle school as an incoming 6th grader in the Fall 2022 has the opportunity to join an instrumental music class, which includes either band or orchestra. "Instrument Selection Night" is when students and families get to make their choice!
At "Instrument Selection Night," a music professional will be available to give students advice about which instrument may be best suited for them. They will be allowed to "try out" instruments from various instrument groups. Click here to download, view and print more information on Instrument Selection Night.
In order to join 6th grade band or orchestra, students must select an instrument that they will learn, practice and perform for the school year. Click this link to sign-up for your appointment at your designated school and date.
Penn Poms to host one-day clinic on Saturday, Jan. 29
Penn Poms will host a one-day clinic on Saturday, January 29, 2022.
The Poms clinic participants (pre-K through eighth grade) will learn a dance routine during the day on Saturday, Jan. 29, that will be performed at the Penn High School boys basketball halftime that night. The clinic cost is $35 per student.
Click here for details.
*Adobe Acrobat Reader will be required to view the pdfs on this page. If you do not have Adobe Acrobat Reader, please visit Adobe's website, at this link www.get.adobe.com/reader/, to download your free version.
COVID Testing Walk-in Clinic for P-H-M Students & Staff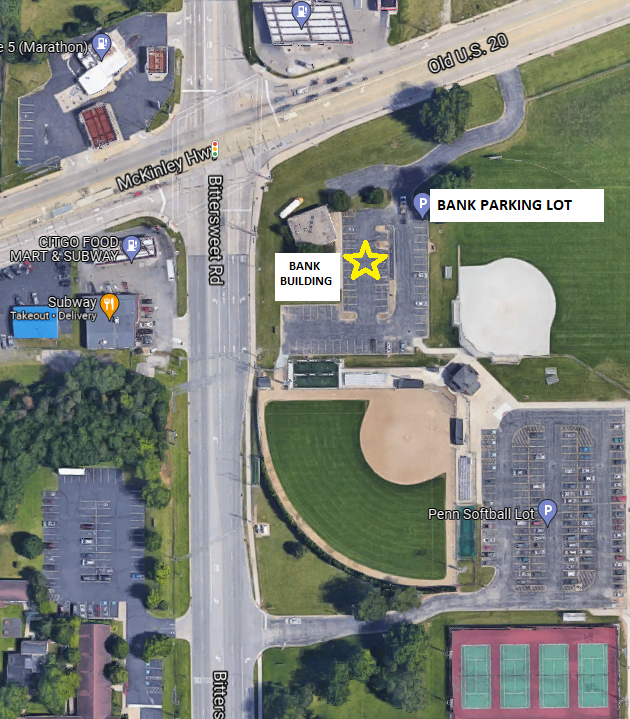 COVID Testing Walk-in Clinic
If a student, teacher, or staff member is symptomatic or quarantined due to exposure, they may receive a free BinaxNOW rapid antigen test for the COVID-19 virus. This program uses Abbott Laboratories BinaxNOW tests provided by the federal government.
The IDOH has recently revised the school site testing criteria due to the limited supply to only test the following groups:
Symptomatic students Pre-K through grade 12
Symptomatic teachers and staff members age 50 and above.
Where can they be tested:
The walk-up clinic will take place at the P-H-M Bank Locker Room Building located on the corner of Bittersweet and McKinley Hwy (US20) near Penn High School. Entry is off McKinley Hwy.
No appointment is necessary.
The clinic will be open when school is in session on

Mondays, Wednesdays, and Fridays

from 7:00 – 9:00 a.m. AS LONG AS TESTS ARE AVAILABLE. The Clinic may need to close early on the days it is in operation as the number of available tests per day may vary due to the national shortage.
We will only test a student accompanied by a parent/guardian.
Please bring the completed consent form to the clinic at the time of testing. Click here to download and print the consent form.
Santa is Back on Saturday, December 4, 2021
We are happy to announce that Santa Claus is coming to town!
At the 2021 P-H-M Winter Wonderland Show, attendees will be treated to a fabulous light show and then children will have an opportunity to tell Santa what they want for Christmas.
The show is called "Laser Holidays" and it will be shown in the state-of-the-art Digital Video Theater located at Bittersweet Elementary School.
Quick Details:
Saturday, December 4, 2021

​Shows at 8 a.m., 9:45 a.m. & 11:15 a.m.
Bittersweet Elementary School

$5 for all tickets​

​Tickets go on sale Wednesday, November 10, 2021 at 10 a.m.
Space is limited to 75 participants per time slot.
Purchase tickets here: phm.revtrak.net
Ticket sales begin on Wednesday, November 10, 2021 at 10 a.m. Tickets will only be available online on a first-come, first-served basis.
Space is limited to 75 participants per time slot. Once all tickets are sold, all sales end.
While the program is intended for Kindergarten through 3rd grade students, children of other ages may attend with their siblings. All children
must be accompanied by an adult and each person must purchase a ticket to attend.
Tickets will then be mailed to you from the Community Education office prior to the event.
If you have any questions about the program, please call 574.258.9568 or email jforkner@phm.k12.in.us.
Masks will be required to wear during the DVT show and in line to visit Santa. Masks can be taken off briefly to take the picture with Santa.
If you have any questions about the program, please call 574.258.9568 or email jforkner@phm.k12.in.us.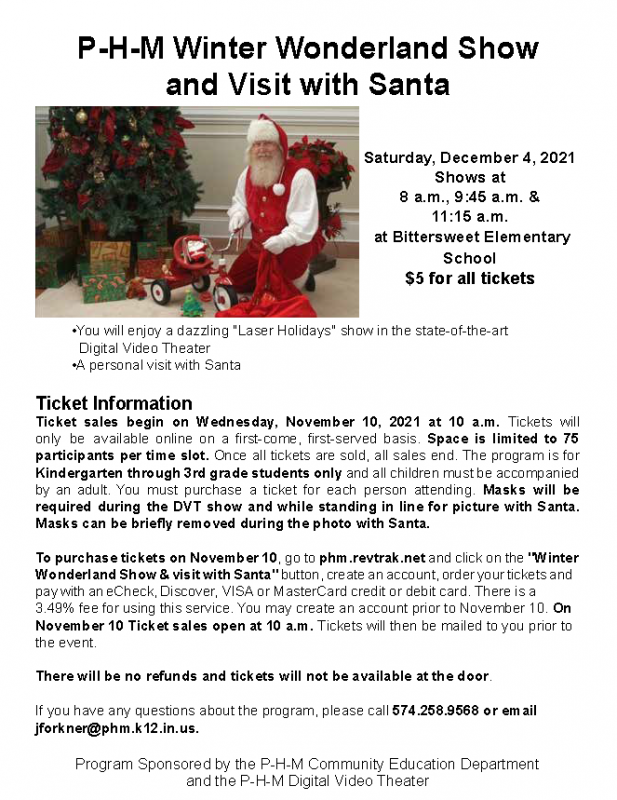 "Fright Night" Orchestra to perform Oct. 28-29
Penn High School presents the "Fright Night" Orchestra on Thursday, Oct. 28, and Friday, Oct. 29, in Penn's Center for the Performing Arts. The concert is scheduled to start at 7:30 p.m. each night. Cost is $5 a person.
The Fright Night Orchestra concert is a celebration of the Halloween spirit! Our five orchestras will perform fun and scary music to delight all of our big and little Ghouls and friends!
The playlist includes:
Phantom of the Opera
Ghostbusters
Harry's Wondrous World – from Harry Potter and the Chamber of Secrets
This is Halloween from Nightmare Before Christmas
Cruella De Vil
Danny Elfman Spooktacular (Corpse Bride, Dark Shadows, Beetlejuice)
A Halloween Thriller