New Short Circuits Sphero program partners 3rd graders & Penn Robotics students
What would make more than 200 elementary students and dozens of Penn High School students show up at school on a Saturday? It would have to be something pretty cool, and there's no doubt that P-H-M's new "Short Circuits" Sphero is cool! Click here to see the full photo gallery on the P-H-M District website.
Teams of third graders from all 11 P-H-M elementary schools and their Penn Robotics Team 135 coaches/mentors were excited to show off what they had learned about coding, programming, and robotics to their parents, grandparents and family members.
The idea for Short Circuits came about from a discussion between longtime, now retired, Penn Robotics Team 135 Coach Jim Langfeldt and P-H-M Education Foundation Executive Director Jennifer Turnblom.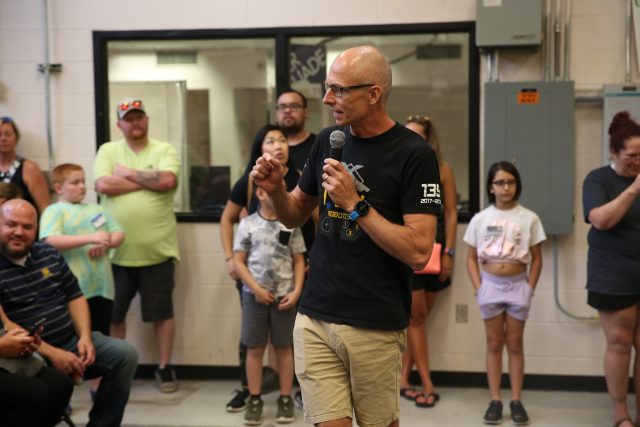 Current Team 135 Teacher Coach Kyle Marsh worked with Michael Niemier — a Professor in Computer Science and Engineering at Notre Dame — under the umbrella of his National Science Foundation Research Experiences for Teachers (RET) grant, which funded Mr. Marsh's summer work to write the Short Circuits coding program. Co-developer and former P-H-M teacher Jim Langfeldt has also participated in Niemier's RET program.
During the 4-week after school practices, the Penn students have coached and mentored 3rd grade teams at all 11 elementary schools; one or two teachers at each elementary school are also involved helping to oversee the students.
During Saturday's celebration, the 3rd grade students will demonstrate for their parents and family members what they've learned, including programming the Sphero robots to maneuver through the Penn Robotics student built obstacle course.
Short Circuits is sponsored by P-H-M Education Foundation. Former longtime PHM Board Member Gary Fox, and his wife Tamera, generously committed to a $20,000 donation over four years to sponsor the program. $30,000 was raised at the PHMEF 25th Anniversary Gala to pay for Sphero kits for all the elementary schools.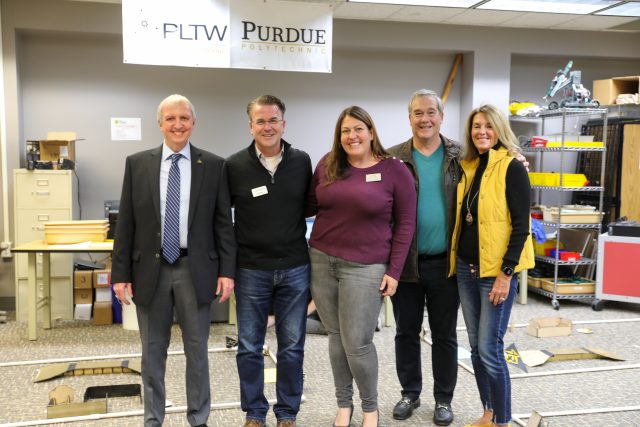 Community Connections Fair set for Saturday, March 26
Picture above taken at the 2018 Community Connections Fair
Community Connections Fair
Saturday, March 26, 2022
10:00 a.m. – 1:00 p.m.
Schmucker Middle School
56405 Bittersweet Rd., Mishawaka
The Penn-Harris-Madison School Corporation's ENL Services' is sponsoring the District's FREE Community Connections Fair!
Come check out what the Mishawaka, South Bend, and Elkhart communities have to offer to your families!
P-H-M is inviting area businesses who want to participate in the Community Connections Fair to sign up. Click here to request a table at the event.
The Fair will also include cultural performances from P-H-M students and families. Families wishing to sign up to perform, click here.
Flyers about the event are available in the following languages, please click to download and print:
Bilingual interpreters will be on hand at the event to assist those families who need it.
Come out and enjoy the many cultural performances and student work that will be on display representing countries from all over the world!
Please join us!
For more information, please contact:
Nicole Parker
P-H-M Elementary ENL Coordinator
(574) 259-2486, Ext. 53261
nparker@phm.k12.in.us
Young Authors' Conference, Sat. March 5
(picture above was taken March 2019)

Mark your 2022 calendars for P-H-M's Young Authors' Conference:
Saturday, March 5
8:30 – 11:00 a.m.
Schmucker Middle School
P-H-M Elementary students, grades K-5
Registration Fee: $5 per child
Online registration is at phm.revtrak.net. The deadline for registration is Friday, February 18, 2022.
The Young Authors' Conference is for P-H-M students in grades K-5. The event, sponsored by Corporations for Education, a division of the P-H-M Education Foundation, provides an opportunity for students and their parents to meet and hear from a well-known children's authors. Click here to view the photo gallery of the 2019 event.
This year students and their parents will meet and hear from well-known children's author, teacher, and speaker, Gabrielle Balkan. Mrs. Balkan is best known for non-fiction books that delight readers ages 3-12 with curious and essential facts about the United States, animal record-breakers, and ground-breaking artists. Mrs. Balkan will share her experiences as a writer and illustrator during her engaging, grade-level presentations.
Participants and parents will also enjoy an interactive, up-close animal experience from the Potawatomi Zoo staff. As part of the morning activities, students will share their own writing piece in small, adult-led group sessions with students from other P-H-M elementary schools. While students are meeting with their peers, parents will join P-H-M Teacher and writing expert, Mary Nicolini, as she explores how writing can be a method for remembering and preserving events using real-life stories, drawings, and photographs.
Elementary student attendees will also work in small adult-led breakout sessions sharing their own writing pieces with other P-H-M students.
COST: The registration fee of $5.00 per child is used for conference expenses. There is no cost for the parent. One parent only must accompany students! However, keep in mind that students and parents will separate for a portion of the day. YOUNGER siblings may not accompany adults. This experience is for your young author and parent.
REGISTRATION: Online registration will be available at phm.revtrak.net. If you don't have a P-H-M Revtrak account, you will need to create one. There is a fee for using this service. The deadline for registration will be Friday, February 18.
CONFIRMATION: Participating students will receive additional information prior to the conference through their home school at the beginning of March.
QUESTIONS: If you have any questions, please contact Lindsay Schirripa at lschirripa@phm.k12.in.us.
1st graders make pumpkin catapults
First graders in Ms. McCarthy, Ms. Trowbridge and Mrs. Youngquist's classes had the chance to participate in a fun Halloween trick that was also a treat!
Students were taught how to make mini catapults out of popsicle sticks (or pencils), rubber bands and plastic spoons.
Next step was to load the miniature candy pumpkins on the spoon and fire!
As you can see, the students really enjoyed themselves.
Registration Now Open for the 2021 Virtual Young Authors' Conference, Sat., March 6
Calling all kindergarten through fifth grade students and their families…it's time for the VIRTUAL Young Author's Conference!
Sponsored by the P-H-M Education Foundation, the Young Authors' Conference is an opportunity to meet and hear from multi-talented children's author and speaker, Matthew Gollub. Mr. Gollub has written over 20 picture books and will share his experiences as a writer during his engaging, grade-level presentations.
Participants will also enjoy an interactive music and movement experience with Horizon Elementary School's very own music teacher, Jon West.
Mr. West is a seasoned Elementary music teacher in the P-H-M School Corporation in addition to being the Executive Director of a local nonprofit community theater company, The Main Stage Inc.
COST:
FREE for any K-5 P-H-M Student.
Students MUST be registered and registration is limited!
Every student, including multiple students within the same family must have their own registration.
Register at YAC Virtual Registration.
Deadline for registration is Friday, February 19, 2021
VIRTUAL EVENT DETAILS:
Saturday, March 6, 2021, 9:00am – 10:30am
Prior to the conference at the beginning of March, participating students will receive the link for the virtual event and additional information.

This information will be sent to the email that was provided on the registration form.

If you have any questions, please contact Lindsay Schirripa at lschirripa@phm.k12.in.us
Special thanks to our community partners who help make events like these possible:
May Oberfell Lorber, Laidig Systems, Crowe Horwath, Gibson, Teachers Credit Union, Tuesley Hall Konopa, Lake CityBank, Holiday Coral, EdwardJones – Joel Laidig & Barnes & Noble.
2nd First Day of School for PreK – 3rd graders
On Monday, September 14, we welcomed back our youngest students, PreK – 3rd graders who opted to return to school. We could see the smiles under their masks, and we hope they could see ours! P-H-M video crew visited four out of 11 P-H-M's elementary schools. Along with our own school, they also visited Walt Disney Elementary School, Northpoint & Prairie Vista–to get a socially distanced look at students' 2nd First Day of School. Click to watch the video below …
On Tuesday, September 15, PHM video crew visited dropped by Moran Elementary School to see how the PreK – 3rd graders whose parents choose to stay virtual to see how they are interacting with their teachers. Click to watch the video below …
Summer Math & Reading Tools
School Items Return & Personal Items Pickup (June 1 – 3)
Beginning the week of June 1st, Bittersweet parents are encouraged to come to return school materials and also pick up their child(ren)'s belongings that remain at school. Our goal is to use a procedure that maximizes the safety of all parents and staff.
Please use the following schedule:
Monday, June 1st:

Grades K – 2, pickup between 8:00 – 11:00 a.m.
Grades 3 – 5, pickup between 11:00 – 2:00 p.m.

Tuesday, June 2nd:

Grades 3 – 5, pickup between 8:00 – 11:00 a.m.
Grades K – 2, pickup between 11:00 – 2:00 p.m.

Wednesday, June 3rd:

Pickup for those unable to come June 1st or 2nd
8:00 – 2:00 p.m., all grades K – 5
* Those with students in both grade groupings may pick up belongings with the younger students group time.
* Items still remaining in the building on Friday, June 5th that have not been picked up will be donated (unless a parent has contacted our office)
When you come to school, the following procedure will be utilized:
Please come drive the lane that is used for bus drop off outside the main entrance.
Place a sign in the window with your child(ren)'s name, grade, and teacher written on the sign.
Remain in your car while in line, Bittersweet staff will greet you and radio other staff inside the building to bring your child(ren)'s pre-bagged belongings to you in line; and place these items on a table for parents to retrieve.
If you are returning library books or textbooks and curriculum materials, please let staff know and follow their directions.
Chromebooks do not

need to be returned at this time.
Thank you for following these guidelines to help this process be efficient and safe for everyone!
COVID-19 Update: PHM Schools closing & eLearning (3/12/20)
The message below was sent out to all P-H-M staff and families the afternoon of March 12, 2020.
Dear P-H-M Families and Staff,
Based on Governor Eric Holcomb's announcement released at 4:28 p.m. today, all P-H-M students will not report to school tomorrow Friday, March 13 and Monday, March 16, 2020. These days will be recess days (no eLearning will be conducted on these two days). Students and families should be prepared to begin extended eLearning beginning on Tuesday, March 17, 2020.
All P-H-M staff are to report to their normal work location at normal times on Friday, March 13 and Monday, March 16 to help prepare the district for extended eLearning days.
More details to come for respective staff groups and families. Please be patient with us as we work through these details.
Sincerely,
Dr. Jerry Thacker​
Superintendent of Schools
No Worries!
How do you take away younger students' worries? With a worry monster of course!
Ms. Jenni McCarthy has been reading Rosie Greening's book "The Very Hungry Worry Monsters" to her kindergarten class. The book is full of fun illustrations featuring friendly monsters that eat worries and make them disappear!
Ms. McCarthy had all her students create their very own unique worry monster out of paper cutouts, and then she secretly worked with Penn Fashion/Textiles Teacher Mrs. Amy Rice to have her Penn students to create stuffed animals out of the kindergarteners' designs. The result? Each kindergartner got his or her very own personal worry monster!
Ms. Rice brought her high school students over to Bittersweet this afternoon to take part in the elaborate surprise party that Ms. McCarthy planned for her students.
See for yourself …
Ms. McCarthy also had a parent helping her with all the planning; Mrs. Chrissy Harper also read the story again to the class while the kindergarten and high school students paired up to take group shots in front of an especially designed worry monster backdrop.
It was a very rewarding project for everyone involved! Check out the full photo gallery below …