Penn Harris Madison COVID-19 Vaccination Clinic
The Penn-Harris-Madison School Corporation considers the health and safety of our school community as a top priority. The FDA has issued an extension of the Emergency Use Authorization (EUA), allowing the use of the Pfizer-BioNTech COVID-19 vaccine to prevent COVID-19 in individuals 5 years of age and older. As such, in conjunction with the St. Joseph Regional Medical Center, we are offering a free COVID-19 Vaccination clinic for all students, staff, and parents/guardians.
This voluntary event is being held after school hours as a convenience for those families wishing to participate. P-H-M recognizes and respects family decisions in regards to non-IDOH immunization requirements.
Who can get the vaccine?
The vaccine is now available for children 5 – 11 and everyone age 12 and older. For the scheduled dates, we are providing an opportunity for any P-H-M student, parent/guardian, and staff member eligible to be vaccinated with their first dose, second dose, or booster shots to those already vaccinated.
Only the Pfizer vaccine is approved for the ages 5-11 age group at this time. Two doses of the Pfizer vaccine are needed to provide full immunization. The first one primes the immune system, helping it to recognize the virus, and the second one strengthens the immune response. If the vaccine you received requires two doses, you should receive both doses, the second dose for this age group being 3 weeks after the first dose. An individual is considered fully protected 2-weeks after the second/last dose.
When will the vaccinations be offered?
Tuesday, January 18th, 5-7:30 p.m.
Where will the vaccinations be offered?
The walk-up clinic will take place at Schmucker Middle School
Please enter through Door C (see map).

Please note that this is the same door as the previous clinics.

Address:
Schmucker Middle School
56045 Bittersweet Rd. Mishawaka 46545.
Keynotes about the vaccine for ages 5 -11?
All children in the eligible group of ages 5-11 will have to be accompanied by a parent/guardian.
Children ages 5 through 11 years receive one-third of the adult dose of Pfizer-BioNTech COVID-19 Vaccine. Smaller needles, designed specifically for children, are used for children ages 5 through 11 years.
COVID-19 vaccine dosage does not vary by patient weight but by age on the day of vaccination.
Your child will need a second shot of the Pfizer-BioNTech COVID-19 Vaccine three weeks after their first shot.
The experience of getting a COVID-19 vaccine will be very similar to the experience of getting routine vaccines. Use the tips to support your child before, during, and after routine vaccinations when getting a COVID-19 vaccine.
Registration Form (needed for 1st dose Only):
Pre Registration will NOT be required. Individuals will be served in the order in which they arrive.
If possible, please print off and complete the registration before arrival.
LINK: Registration (English)
Although there is NO COST to the participants, St. Joseph Health Systems asks that you please bring your insurance cards & state-issued IDs to help the registration process. If you do not have insurance, you will not be turned away.
If the dates or times won't work for my family, how can I sign up to get vaccinated elsewhere?
Winter Guard Open House, Tuesday, Nov. 16
The Penn Winter Guard Open House will be from 6-8 p.m. on Tuesday, Nov. 16, in the Auxiliary Gym.
The Open House is for all 4th – 12th grade P-H-M students.
Questions, contact Jen at (574) 903-9200 for more information about Winter Guard.
U.S. News Ranks Bittersweet Among Indiana's Top Public Elementary Schools
U.S. News & World Report "Best Schools" Designations has recently expanded to include elementary and middle schools. With Penn High School earning a "Best High School" designation for several years, P-H-M now has several elementary and middle schools who also have earned this distinction, including our very own Bittersweet. We've earned the distinction of being among Indiana's Top 30% of Public Elementary Schools (data is based on the 2018-2019 and 2019-2020 school years).
A total of 10 of P-H-M elementary schools earned the high ranking as a U.S. News "Best Public Elementary School." See the full ranking list below:
Two of our middle schools, Discovery and Schmucker, are also named "Best Public Middle Schools." Discovery is ranked #4 in Indiana and Schmucker is ranked #96.
Here's how U.S. News calculated the rankings:
For each state, schools were assessed on their pupils' proficiencies in mathematics and reading, as measured by state assessment tests. Half of the ranking formula was the results themselves; the other half was the results in the context of socioeconomic demographics. In other words, the top-ranked schools are high achieving ones that succeeded in educating all of their students. All data for the rankings are from third-party sources, including the U.S. Department of Education.
U.S. News has published state rankings for more than 47,000 public elementary schools and more than 23,000 public middle schools. Most schools with an elementary school ranking offer grades K-5 or K-6, while most with a middle school ranking offer grades 6-8 or 7-8. Some schools with wider grade spans were ranked in both categories.
U.S. News has published an in-depth methodology article that provides more information about the rankings and how they were calculated.
Penn Robotics October & November Workshops
Penn High School Robotics Team 135 is pleased to once again offering Next Gen Camps this Fall to inspire elementary and middle school students pursue Robotics. The dates are October 29th & 30th, as well as three dates in November: Nov. 13th, 26th, and 27th.
Click the images of the flyers below to enroll your student today.
Meals for eLearning Day on Tues., March 30, 2021
With the announcement that Tuesday, March 30, 2021 will be an eLearning day, the meal plan for March 30th is as follows:
Elementary:
Every elementary student in school on Monday, March 29th will receive a meal for Tuesday, March 30th as they leave.
Breakfast AND lunch will be included for students who attend Bittersweet, Elm Road, Elsie Rogers, Horizon, Mary Frank, Meadow's Edge, Walt Disney, Moran & Madison.
Lunch only will be provided for students who attend Northpoint & Prairie Vista
Middle:
When students leave school on Friday, March 26th, they will receive 2 days worth of meals. Those meals will cover Monday, March 29th and Tuesday March 30th.
Students at Grissom and Schmucker will receive pre-packaged breakfast and lunch.
Students at Discovery will receive pre-packaged lunches.
High School
When students leave school on Friday, March 26th, they will receive 2 days worth of meals. Those meals will cover Monday, March 29th and Tuesday March 30th.
Meals for 100% Virtual Learners:
Pick up meals at Door K at Penn High School
Day & Time: Monday, March 29, 1-3 p.m.
Students will receive a refrigerated box and a frozen bag with four (4) breakfasts and four (4) lunches since Friday, April 2nd is a recess day.
Additional Information
Students do not need to be present for the parent or guardian to pick up meals.
Student ID's WILL NOT be required.
*Meals will not be provided on Recess Days.
Menus for all schools and virtual learners can be found here.
Penn students offering free eLearning Lessons to P-H-M Children, ages 1-10
During a normal school year, Penn High School students enrolled in Childhood Development classes would be offering two unique programs for preschoolers in our community, Playschool and Toddler Time.
However due to COVID suspending these programs for the time being, Penn Child Development teachers Mrs. Kylee Wetzel and Ms. Rachael Meyers have created lessons that children can do in their own homes.
The Penn High School Early Childhood Education Classes are offering free eLearning lessons to children in the P-H-M community within the age ranges of 1-10 years old.
Children can participate at home with a caregiver, or during the school day via Google Meet with the Penn student facilitating the lesson.
Please fill out the Enrollment Form by Friday, Jan. 15 in order to participate.
Please contact Kylee Wetzel at kwetzel@phm.k12.in.us for any further information.
COVID-19 SCHOOL ATTENDANCE QUICK REFERENCE
The Indiana State Department of Health last updated the COVID-19 School Attendance Quick Reference Guide for parents and schools on December 4, 2020.
PLEASE NOTE: For families who are not able to isolate from everyone else at home, the start date of quarantine is determined by last date of exposure to a positive or untested person; this may be after the ill person completes their 10 days of isolation.
Click the image below to download and print.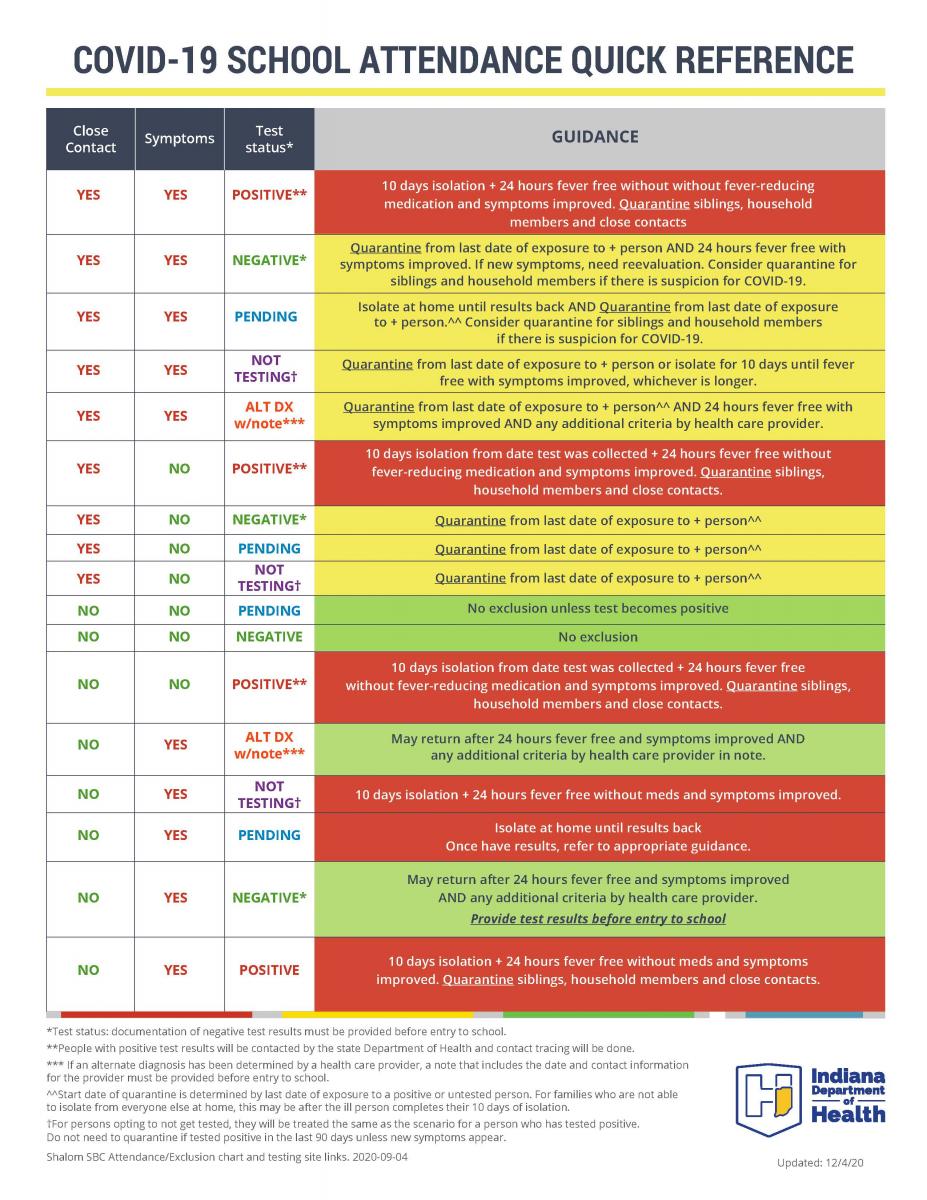 This resource is also provided in the District Overview Return to Learn Fall 2020 document, under "Important Links at the end of the document.
Return to School Update July 30, 2020
The communication below was emailed to staff and parents today:
July 30, 2020
Dear P-H-M Families,
We have been communicating regularly with medical professionals at the St. Joseph County Department of Health (SJCDH) and receiving guidance regarding the status of coronavirus activity and community transmission in making decisions regarding the safest model for curriculum delivery. The current thresholds for consideration by SJCDH strongly recommend that St. Joseph County Schools open in a virtual learning environment.
They also provided guidance on extracurricular and co-curricular activities. Those programs are being monitored and are under review.
The administration will recommend to the P-H-M Board of School Trustees at a School Board meeting on August 3, 2020, at 7:00 p.m. that all students participate in a virtual learning environment from the first day of school, August 19 through October 22. During the established virtual learning period, we will continue to collaborate with the SJCDH regarding further discussions and recommendations.
Prior to October 22, and the decision to return students to in-person instruction, we will ask parents which option they will be choosing by providing a parent survey. Parents will not be bound by their previous choice.
When we return, we will continue to offer two options: in-person or virtual instruction.
On October 27 (or when the SJCDH deems it appropriate) students who are enrolled in the in-person program will return to school.
On October 27 students who are enrolled in the virtual learning program will continue with virtual learning.
Established metrics, provided by the SJCDH, will determine when it is safe to return to in-person learning. Families will be given a two week notice of any changes to return to in-person learning.
Thank you for your ongoing support and partnership.
Please stay safe and healthy!
Dr. Jerry Thacker
Superintendent
Return to School Update July 21, 2020
The communication below was emailed to staff and parents today:
July 21, 2020
Good Afternoon.
At last evening's Board of School Trustees meeting, we shared additional information on the district's overview on safety, the learning environment, and procedures for our return to learn in the fall.
Our focus is to provide you and your student(s) with an excellent education in a safe, supportive, and positive learning environment. In order to achieve at the highest levels, we must continue to work toward our goal, doing what is best for our students, staff, and families. Our Triangle of Success supports our vision of Excellence in Education, and you are an important part of our Triangle.
In today's communication, I share with you several guiding documents:
I hope that this information is helpful to you in making your decision on whether your student(s) will attend school in person or virtually. We are providing the link for the parent survey here and ask that you please complete it by July 27.
We will continue to collaborate with our parents, staff, and state and local health partners as we work to provide a safe and positive learning environment for our students. Thank you for your continued support.
Stay healthy and safe!
Dr. Jerry Thacker
Superintendent of Schools
Return to School Update July 17, 2020
The communication below was emailed to staff and parents today:
Friday, July 17, 2020
Dear P-H-M Families,
As we continue to develop our school specific plans, we would like to share an update with you. We continue to receive great questions and feedback from our families that have assisted us in developing a list of Frequently Asked Questions (FAQ). The FAQ has been posted to our Return to Learn page.
Answers to the two most frequently asked questions:
Per the St. Joseph County Health Department Public Health Order, staff and students are required to wear a mask that covers the nose and mouth and social distancing will be maintained when possible.
Students and staff who test positive will quarantine for at least 10 days from the date symptoms began AND remain fever-free for 72 hours (without use of fever reducing medication) before returning to school. Click here for the Indiana State Department of Health guide for parents related to student screening and quarantine/isolation guidelines.
Penn High School Information
Previously, I shared with you about the two different options that parents can choose to have their students educated this fall. However, based on stakeholder feedback, students at Penn High School specifically will have additional virtual options to choose from. Principal Sean Galiher will share a separate survey with Penn High School families today and we ask that families complete that survey by July 24th.
Next week, we will also share each school's specific Return to Learn plan. This communication will outline school specific details including arrival procedures, the learning environment, lunch, school dismissal, as well as other important information.
PHM will ensure the guiding focus remains on the health and education of our community and we will continue to follow state and local guidance as we evaluate COVID-19 and our return to learning.
Stay healthy and well,
Dr. Jerry Thacker, Superintendent
Penn-Harris-Madison School Corporation