New Short Circuits Sphero program partners 3rd graders & Penn Robotics students
What would make more than 200 elementary students and dozens of Penn High School students show up at school on a Saturday? It would have to be something pretty cool, and there's no doubt that P-H-M's new "Short Circuits" Sphero is cool! Click here to see the full photo gallery on the P-H-M District website.
Teams of third graders from all 11 P-H-M elementary schools and their Penn Robotics Team 135 coaches/mentors were excited to show off what they had learned about coding, programming, and robotics to their parents, grandparents and family members.
The idea for Short Circuits came about from a discussion between longtime, now retired, Penn Robotics Team 135 Coach Jim Langfeldt and P-H-M Education Foundation Executive Director Jennifer Turnblom.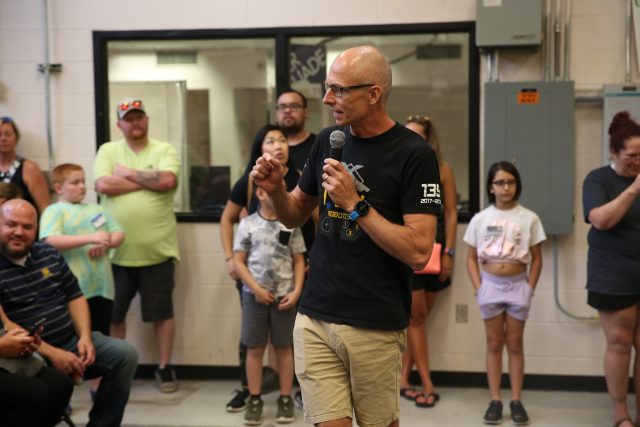 Current Team 135 Teacher Coach Kyle Marsh worked with Michael Niemier — a Professor in Computer Science and Engineering at Notre Dame — under the umbrella of his National Science Foundation Research Experiences for Teachers (RET) grant, which funded Mr. Marsh's summer work to write the Short Circuits coding program. Co-developer and former P-H-M teacher Jim Langfeldt has also participated in Niemier's RET program.
During the 4-week after school practices, the Penn students have coached and mentored 3rd grade teams at all 11 elementary schools; one or two teachers at each elementary school are also involved helping to oversee the students.
During Saturday's celebration, the 3rd grade students will demonstrate for their parents and family members what they've learned, including programming the Sphero robots to maneuver through the Penn Robotics student built obstacle course.
Short Circuits is sponsored by P-H-M Education Foundation. Former longtime PHM Board Member Gary Fox, and his wife Tamera, generously committed to a $20,000 donation over four years to sponsor the program. $30,000 was raised at the PHMEF 25th Anniversary Gala to pay for Sphero kits for all the elementary schools.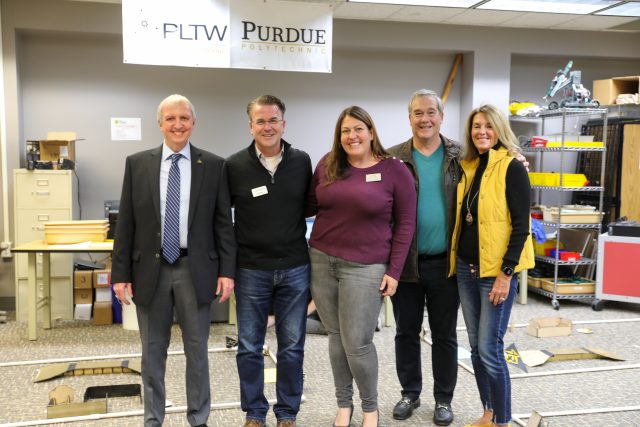 Register Now for the 2020 Silver Mile Bubble Bash on Sat., May 16
Saturday, May 16
8:30 a.m. – Noon
Penn High School
Register online today! Early Bird Registration is available until Sunday, May 3 ($20 for adults, $10 for students)!
Do you like bubbles? Well, if you do, you'll enjoy the Silver Mile Bubble Bash!
Highlighted changes for this year's event:
Early start time, 8:30 a.m.
1.5 mile and 5K route options
Lower early bird prices: $20 for adults, $10 for students
Family Pricing: $60 for four or more (at same address)
Missed out on all the bubbly fun last year? Don't let it happen two years in a row! Watch the video and see how much fun you and your whole family will have …
The Silver Mile Run is the largest fundraiser for the P-H-M Education Foundation and all the proceeds go towards providing innovative P-H-M teaching grants, scholarships to students, staff development, and other corporation-wide initiatives.
Presenting sponsor Saint Joseph Health System will offer free health screenings including body mass index and blood sugar! Other area businesses will also be on hand to showcase health and fitness related activities, resources and services.
After a fun day, leave with great bargains purchased at the Silent Auction. The P-H-M student talent showcase is always a crowd pleaser. Last year, the student groups included Horizon Show Choir, Bittersweet Cardio Drummers, Elm Road Jumping Eagles, Meadow's Edge Dancers, and Penn High School Dancers.
Choose to walk or run the 5K or take a shorter loop. This exciting untimed race welcomes runners of all experience levels while blasting through foam bogs and fun spirit stations along the course.
The Silver Mile Bubble Bash is a chance for P-H-M families and local community members to get together and show their support for excellence in education in all P-H-M schools. Proceeds are returned to P-H-M schools by awarding innovative teacher grants, scholarships to students, staff development and other corporation-wide initiatives.
Click here to take advantage of early bird registration and for more information on the Bubble Bash.