Bittersweet 5th Grade Students Crush the Spellbowl Competition!
On November 13th, 2023, our 5th grade Bittersweet Spellbowl students competed at North Liberty Elementary School for the regional Spellbowl competion.
We took first place! On November 14th 2023, we found out we tied Central Elementary School in Valparaiso for FIRST PLACE in Indiana!
Way to go, Bobcats! Special thanks to the coaches and support staff for making this possible: Mrs. Leniski, Mrs. Metcalf, and Mrs. Cichoracki!
Penn ASL Students Inspire Bittersweet First Graders with Sign Language
American Sign Language (ASL) students from Penn High School embarked on a special mission to Bittersweet Elementary School today. Their goal? To spread the magic of sign language and raise awareness within the community for the hearing impaired.
Bittersweet students learned the alphabet as well as basic words including colors.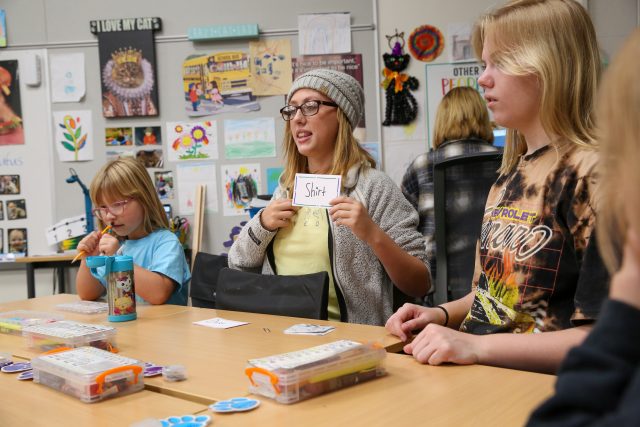 The visit was not just about learning sign language; it was also about fostering understanding and empathy for the hearing-impaired members of their community. Community outreach is part of the ASL 3 curriculum.
But the story doesn't end there. On September 15th, 2023, well over 100 students from both Penn High School and Elkhart High School came together in a powerful display of unity. Using the beauty of sign language, the signed the National Anthem at the Elkhart vs Penn football game.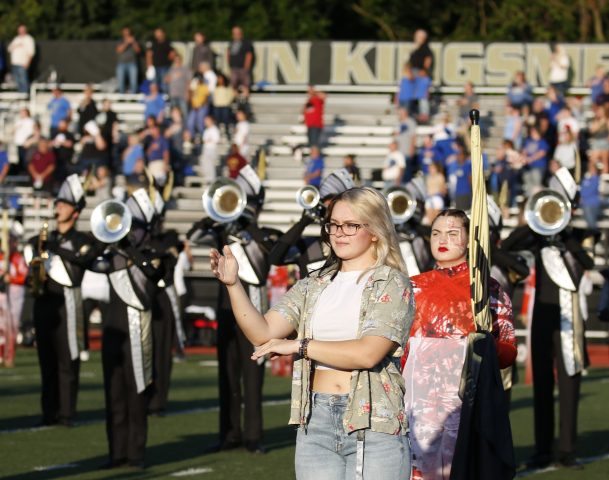 The community outreach of Penn's ASL program showcases the power of education, empathy, and unity in fostering a more inclusive and compassionate community.
What Fans Need to Know Before Heading to Penn Homecoming Parade & Game
Friday, September 29 is Penn's Homecoming Parade, Fun Zone, Food Trucks & the Penn football game versus St. Joe. The P-H-M Education Foundation is once again sponsoring all the fun and new this year–FIREWORKS after the football game!
The entire P-H-M community is invited to come out for this fun-filled family event. All the fun starts with the Homecoming Parade. Be sure to grab your spot on the route by 5:00 p.m. Parade starts at 5:30!
Here are some things that will be helpful for families as they head out for all the festivities.
Parking:
Paid Parking ($3 cash) at these lots:

Penn High School (Front Lot & Jefferson Rd. Lot)

Softball/Tennis Lot

Bittersweet School Lot

Free Parking at these lots:

Soccer Lot (Bank Lot)

Pennway Lot

Schmucker Lot (front, Sides & in Back of School)

Fun Zone:
5-7:00 p.m.
Penn Baseball Field
Teacher Dunk Tanks, Jumpies for elementary students
Food Trucks:

Ben's Pretzels
Junbuggies
Keim's Elephant Ears
Kona Ice
Prized Pig
REAL Grille
Rulli's Pizza

Fans will be allowed to take food purchased at the Food Trucks into the stadium. However, no other outside food will be allowed!
Gate & Ticket Info:
Penn vs. St, Joe, Kickoff is 7:30 p.m.
P-H-M students K – 5th grade get in FREE with paying adult!
Tickets are on sale now-Thurs., Sept. 28 online, ticket price is $6 (students & all other age groups same price)
Tickets on Friday, Sept. 29 are $7 (online or at the gate)
PHM Employees plus one guest get in FREE,

but you must have ID badge & the guest must be with the employee

Please remember middle schoolers cannot be dropped off unsupervised. Once in the game, the students are free to walk around. At least one responsible adult must be onsite.
Tickets are sold at the North & South gates only!
Penn All Sports Passes and tickets (hard & online) are accepted at all gates
The Center Gate is reserved for Penn All Sports Passes and online ticket holders only
No Reentry!
Fan Safety:
Please utilize crosswalks when crossing Bittersweet Road after the parade
Rules to Remember:
No reentry to Everwise Field; once you leave, you are not allowed back in.

No outside food or beverages, no insulated cups

No backpacks

Diaper bags & large women's purses are allowed

Penn does

not

have a clear bag policy

No electronic noise makers

No Footballs or Beach Balls

No weapons of any kind

No alcohol

No Smoking/Vaping products of any kind. All PHM school property is smoke free.

No open flames at private tailgating
Info on the Penn Student Homecoming Dance on Saturday, September 30 can found on PHMEF's website. CLICK HERE.
Bittersweet Elementary Walkathon: A Step Towards Thriving Education
Bittersweet Elementary recently witnessed an outpouring of support and enthusiasm during its annual Walkathon event. The elementary school, known for fostering an environment where student learning thrives, once again demonstrated the power of community, as students, staff, and some family volunteers came together to raise funds for a brighter future.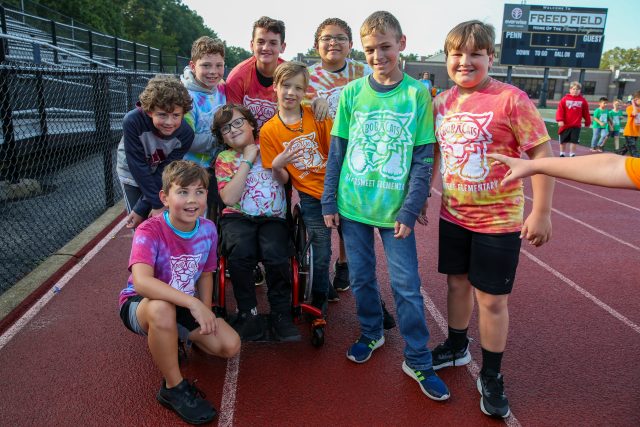 Incredible Students: The heart of any school is its students, and Bittersweet Elementary boasts an incredible group of young learners who are not only passionate about their education but also eager to make a positive impact on their community.
Awesome Staff: The staff at Bittersweet Elementary play a pivotal role in shaping the educational experience. They understand that building strong relationships with students is the key to optimal learning. During the Walkathon, they showed their support not only by participating but by cheering on the students every step of the way.
Incredible Support of Families: The backbone of Bittersweet Elementary is its supportive and engaged families. Their generosity and commitment to the school are truly remarkable. Their presence and involvement in the Walkathon highlighted the strong bond between the school and its community.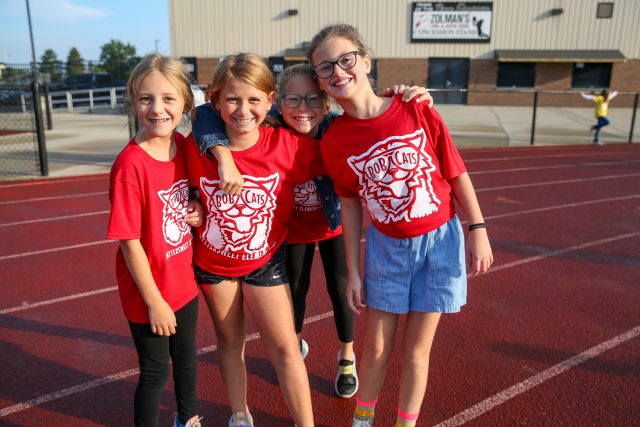 The funds raised during this year's Walkathon will contribute to several essential aspects of the school:
1. Classroom Supplies: Ensuring that every classroom is well-equipped with the necessary learning materials is crucial for effective education.
2. Art Program: Encouraging creativity through art is an integral part of Bittersweet Elementary's curriculum. The funds will help maintain and expand this vital program.
3. Field Trip Transportation: Field trips provide students with hands-on learning experiences. The funds will help cover transportation costs, allowing students to explore the world beyond the classroom.
4. Positive Behavior Rewards (PAWS): Recognizing and reinforcing positive behavior helps create a harmonious and respectful learning environment.
5. Community Building Events: These events foster a sense of belonging and unity among students, staff, and families, enhancing the overall school experience.
6. Student Only Special Days/Activities: Special days and activities add excitement to the school calendar and create cherished memories for students.
7. Extracurricular Education: Supporting extracurricular activities allows students to explore their interests and talents outside of the regular curriculum.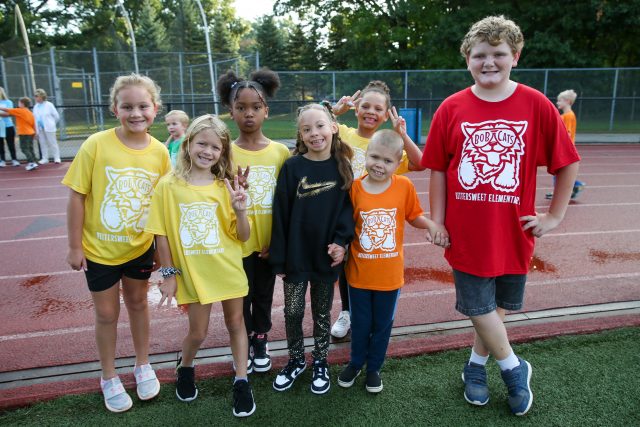 The success of the Walkathon is a testament to the shared commitment to providing Bittersweet Elementary students with the best educational experience possible. The school acknowledges that no donation is too small, and every contribution plays a significant role in shaping the future of its students.
Bittersweet Elementary extends its heartfelt gratitude to everyone who participated, donated, and supported the Walkathon. It is through the collective effort of students, staff, and families that this event was a resounding success, reminding us all that at Bittersweet Elementary, the journey of education is truly a community endeavor.
2023 Community Connections Fair to be held Oct. 7
The Penn-Harris-Madison School Corporation's ENL Services' is sponsoring the District's FREE Community Connections Fair!
Come check out what the Mishawaka, South Bend, and Elkhart communities have to offer to your families!
P-H-M is inviting area businesses who want to participate in the Community Connections Fair to sign up. Click here to request a table at the event.
The Fair will also include cultural performances from P-H-M students and families. Families wishing to sign up to perform, click here.
Bilingual interpreters will be on hand at the event to assist those families who need it.
Come out and enjoy the many cultural performances and student work that will be on display representing countries from all over the world!
Please join us! Click here to download and share the flyer.
For more information, please contact:
Rylee Jacobson
P-H-M Elementary ENL Coordinator
(574) 271-8598, Ext. 50913
rjacobson@phm.k12.in.us
"Back to School" Boys Basketball League
Boys in grades 2nd to 8th are invited to participate in "Back to School" Basketball League at Penn High School.
2nd – 6th grade League
DATES: September 24th; Oct. 1st, 8th, 15th, 22nd 29th
LOCATION:
2nd-4th, Penn Fitness Center
5th-6th, Main Arena/West Balcony/Aux Gym Time
TIMES:
2nd-4th, Sundays, Noon – 4:00 p.m.
5th-6th, Sundays, 4:00 – 6:00 p.m.
COST: $99
Click here to register online.
7th & 8th grade League
DATES: September 10th, 17th, 24th; Oct. 1st, 8th
LOCATION: Penn High School
TIMES: Sundays, 4:00 – 6:00 p.m.
COST: $79
Click here to register online.
Questions? Please contact the League Director Coach Smith if you have any questions at jsmith5@phm.k12.in.us
2023 Community Tailgate
This year's annual Community Tailgate will be a great way to kick off the return of the Backyard Brawl between the Kingsmen and the Mishawaka Cavemen.
All fans are welcome, Cavemen and Kingsmen! There's plenty of food for fans on both sides.
Gates open at 5:00 p.m. You must have a ticket to the football game to enter. Once inside the stadium head down to the white tents in the South End Zone, near the Zolman's Tire & Auto Care South Concession Stand.
For $6 you get your choice of hot dog, hamburger or brat served with a bag of chips, choice of drink, and a cookie. Food tickets for the Tailgate are purchased at the Tailgate.
Fall 2023 Penn Youth Girls Basketball League, 3rd-8th grade
Penn Girls Basketball Head Coach Kristi Ulrich is once again offering a fall youth basketball league
The "Junior" League is open to girls in 3rd – 6th grades. The "Senior" League is for student-athletes in 7th & 8th grades. All those participating in the "Senior" league MUST live in the P-H-M District or attend a P-H-M School.
Sign-ups are on Sunday, September 10 from 12 – 2 p.m. in the Penn High School Main Arena. Enter Door D.
The League runs September 17th – November 12th with a single elimination tournament for all age groups.
All games will be played on Sundays at Penn High School in the Main Arena, Auxiliary and West Balcony courts. Tournament times may vary on Nov. 12th.
Weekly Game Times are:
3rd & 4th grades: 10:00 a.m. – 12:00 p.m.
5th & 6th grades: 12:00 – 2:00 p.m.
7th & 8th grades: 2:00 – 4:00 p.m.
Click here to download the PDF with more information and to register.
PennPALS Open Houses, Wed., August 16
PennPALS will be holding Open Houses on Wednesday, August 16. Please attend the session that corresponds to your child's teacher, age group and time of attendance.
Miss Christine 4 & 5's Morning Class: 10:00 – 11:00 a.m.
Miss Christine 4 & 5's Afternoon Class: 11:30 – 12:30 p.m.
Miss Amanda 2.5 – 4's Morning Class: 12:30 – 1:30 p.m.
Miss Amanda 2.5- 4's Afternoon Class: 2:00 – 3:00 p.m.
2023-2024 District Activities Calendar
The 2023-2024 District Activities Calendar was mailed to the homes of P-H-M families the last week of July.

The calendar provides key dates for testing, recess breaks, and school specific events (for the schools that provided the information).

You can click here to view a PDF copy of the calendar. You can also view a one-page of the 2023-2024 school calendar that shows the school year at a glance.

The P-H-M District online (Google) calendar is the most up-to-date. You can add this district and any school calendar to your own personal Google calendar.

Each of our 15 schools also maintains an online calendar that is updated frequently with the school's scheduled activities and event details. You'll need to visit your school's website to add that calendar to your personal Google calendar.

document.addEventListener( 'wpcf7submit', function( event ) { var reference = Date.now().toString(36) + Math.floor(Math.pow(10, 12) + Math.random() * 9*Math.pow(10, 12)).toString(36); jQuery('input[name="wpcf7cfpdf_hidden_reference"]').val(reference); }, false );