New Short Circuits Sphero program partners 3rd graders & Penn Robotics students
What would make more than 200 elementary students and dozens of Penn High School students show up at school on a Saturday? It would have to be something pretty cool, and there's no doubt that P-H-M's new "Short Circuits" Sphero is cool! Click here to see the full photo gallery on the P-H-M District website.
Teams of third graders from all 11 P-H-M elementary schools and their Penn Robotics Team 135 coaches/mentors were excited to show off what they had learned about coding, programming, and robotics to their parents, grandparents and family members.
The idea for Short Circuits came about from a discussion between longtime, now retired, Penn Robotics Team 135 Coach Jim Langfeldt and P-H-M Education Foundation Executive Director Jennifer Turnblom.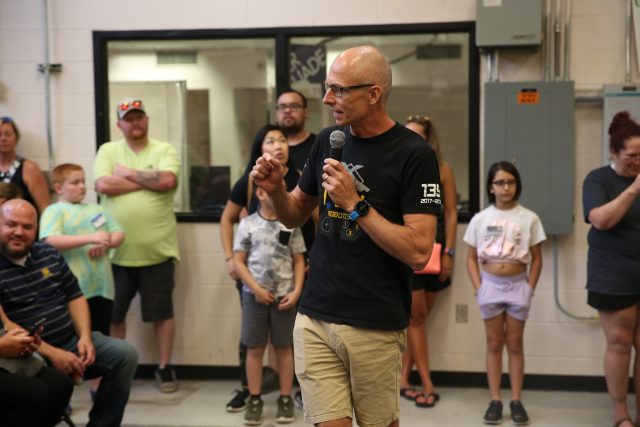 Current Team 135 Teacher Coach Kyle Marsh worked with Michael Niemier — a Professor in Computer Science and Engineering at Notre Dame — under the umbrella of his National Science Foundation Research Experiences for Teachers (RET) grant, which funded Mr. Marsh's summer work to write the Short Circuits coding program. Co-developer and former P-H-M teacher Jim Langfeldt has also participated in Niemier's RET program.
During the 4-week after school practices, the Penn students have coached and mentored 3rd grade teams at all 11 elementary schools; one or two teachers at each elementary school are also involved helping to oversee the students.
During Saturday's celebration, the 3rd grade students will demonstrate for their parents and family members what they've learned, including programming the Sphero robots to maneuver through the Penn Robotics student built obstacle course.
Short Circuits is sponsored by P-H-M Education Foundation. Former longtime PHM Board Member Gary Fox, and his wife Tamera, generously committed to a $20,000 donation over four years to sponsor the program. $30,000 was raised at the PHMEF 25th Anniversary Gala to pay for Sphero kits for all the elementary schools.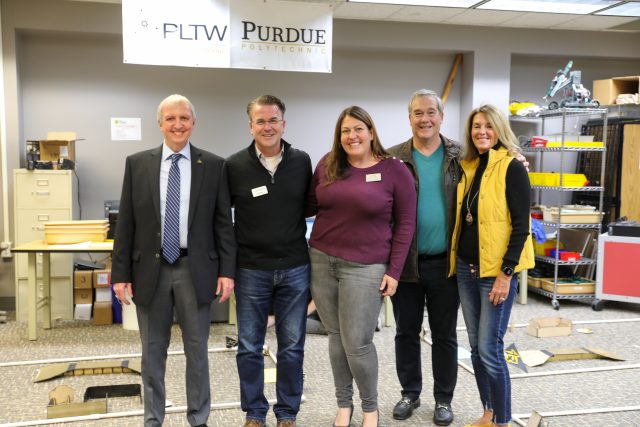 No Worries!
How do you take away younger students' worries? With a worry monster of course!
Ms. Jenni McCarthy has been reading Rosie Greening's book "The Very Hungry Worry Monsters" to her kindergarten class. The book is full of fun illustrations featuring friendly monsters that eat worries and make them disappear!
Ms. McCarthy had all her students create their very own unique worry monster out of paper cutouts, and then she secretly worked with Penn Fashion/Textiles Teacher Mrs. Amy Rice to have her Penn students to create stuffed animals out of the kindergarteners' designs. The result? Each kindergartner got his or her very own personal worry monster!
Ms. Rice brought her high school students over to Bittersweet this afternoon to take part in the elaborate surprise party that Ms. McCarthy planned for her students.
See for yourself …
Ms. McCarthy also had a parent helping her with all the planning; Mrs. Chrissy Harper also read the story again to the class while the kindergarten and high school students paired up to take group shots in front of an especially designed worry monster backdrop.
It was a very rewarding project for everyone involved! Check out the full photo gallery below …
Robotics Tournament a Family Event, March 14 & 15
Mark your calendars for Saturday, March 14 & Sunday, March 15 for the FIRST Robotics St. Joseph District Event. Penn High School is once again hosting more than 40 high school FRC robotics teams from Indiana and Michigan who will battle it out for the title. Join more than 5,000 students, coaches, mentors, parents and fans during this one-of-a-kind two-day FREE event!
Saturday, March 14
10 a.m. – 7:00 p.m.
Next Gen (K-8): 11 a.m. – 2 p.m.
Sunday, March 15
9 a.m. – 6 p.m.
Click to watch the video below to check out all the upcoming excitement, then come out to cheer on Penn Robotics Team 135!
Make sure to also bring your young Robotics fans to "Next Gen," an area for students ages K-8, who can get hands-on engaging fun with some of Team 135's other robots. Next Gen will be open Saturday from 11:00 a.m. – 2:00 p.m. This event is also FREE ADMISSION!
Running is Elementary set for Mon., April 27
Monday., April 27 (Rain Date is Wed., April 29)
3:00 p.m. – 5:30 p.m.
behind Elm Road Elementary School
59400 Elm Road, Mishawaka

"Running is Elementary" is gearing up for another great year! This is the 12th year for the one mile, non-competitive run which will feature the participation of almost 700 fourth and fifth grade students from all 11 P-H-M elementary schools. This event is FREE to students and takes place on the Penn cross-country course located behind Elm Road Elementary School.
Each school year fourth and fifth graders are encouraged to join the running club at each of P-H-M's elementary schools. The kids go through this six-week club trained by designated coaches at each school. The end of the six weeks is then celebrated by participating in the Running is Elementary run.
Click to download the RIE forms to sign your student(s) to participate.
Mary Frank physical education teacher and P-H-M's 2009 Teacher of the Year Cindy Batalis began this event in 2008. Running has always been a true passion for Batalis and she shares that passion with students by organizing this yearly event.
The event is hosted by the P-H-M Education Foundation and Corporations for Education.